There is no city quite like Barcelona and there has never been a better time to take a weekend break in the capital of Catalunya.
Barcelona is accessible from all around the world and Spain's impressive public transport system make it easy to incorporate the city into any trip around the country.
Famous for being the home city of architect Antoni Gaudi, and for its all-conquering football team, Barcelona attracts around nine million tourists every year and there is no shortage of guided tours and packaged sightseeing trips for people who want to be shown around.
But Barcelona has so much to offer that lies beyond the tourist trail and, if you are looking for a unique weekend away, it is easy to create your own adventure in this historic city.
Go to the big game
There is a commonly held misconception that it is difficult to get tickets for football matches at Europe's biggest clubs, and as a result many tourists don't include an FC Barcelona match in their plans. The reality is quite the opposite, and if you are making a trip to Barcelona anytime soon you can incorporate a night out watching some of the greatest players in world football into your itinerary.
Camp Nou is an incredible stadium, with a capacity just short of 100,000 people, and you can book a stadium tour on any day of your stay in Barcelona if you are not too bothered about seeing a match. But if there is a home fixture during your visit, and you fancy seeing Lionel Messi, Neymar Jr and Luis Suarez strut their stuff under the lights, then a ticket will only set you back €35. The La Liga betting as of early March makes Barcelona 1/80 to win the title this season. So, if you want to see one of the world's best teams at their peak, now is the time to watch Barcelona in action!
Pick your barrio
Barcelona has many famous streets and neighbourhoods, and attractions like Park Guell and La Ramblas can be found teeming with tourists every day of the year. But the city is wonderfully easy to explore on foot and you don't have to walk far from the most populated areas of town to find your own little enclave.
To the north west of the city centre is Gracia, where boutique shopping, student culture and an exciting mix of bars and restaurants have combined to create one of the most vibrant barrios. It is not difficult to see why this is one of the most sought-after locations amongst people buying property in the city.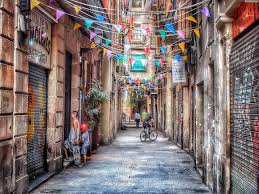 If you want a more traditionally Spanish experience, you can head to El Poble-Sec, where streets lined with tapas bars are filled with local people enjoying the lifestyle that has thrived in Spain for centuries. It is one that centres around fantastic, affordable food and drink.
Three cities in one
Barcelona offers a taste of old Spain in neighbourhoods like Sants and Sant Antoni, as well as the modern Spanish experience of shopping and fine dining in Eixample and Gracia. But you don't have to go far to find another world altogether – without leaving the city.
Hop on the subway and take a train to Barceloneta and, as you leave the station, you'll find yourself walking towards golden beaches lined with palm trees. Barcelona's beach culture brings together the city's love of good food and its passion for sport. If you're feeling energetic you can join in the beach volleyball and beach football that takes place almost all year round in Barceloneta and nearby Poblenou.
When you're ready, you can make the short train ride back into the city and find yourself catapulted back into one of the world's most exciting, cosmopolitan places to enjoy a night out.