A Dapper Chapper & His Barber
We were sent research commissioned by Just for Men that revealed a number of interesting stats and facts about British chaps' and their relationship with their barber.
It makes for some pretty interesting reading but first things first, let's conquer exactly what we're looking for in a Barber. #1 is trust. Apparently 63% of men trust their Barber with 81% of men actively recommending their barber to a friend.
Right then friends, let's get too it! As our writers are based in London, Surrey, Edinburgh and Melbourne, that's where we'll advise on for now. We've done the rounds (just check our grooming section) and here's where we'd recommend to a friend:
London
Ruffians, 27 Maiden Lane, Covent Garden, London WC2E 7JS – Book here
Murdock, Covent Garden, 18 Monmouth Street, London, WC2H 9HB – Book here
Surrey
Ben Copeland Hair, based in Sutton contact here 
The Fellowship Barbershop, based in Surbiton, Contact here
Melbourne
Luke Harris Hair, based in Melbourne working for Toni and Guy. Contact here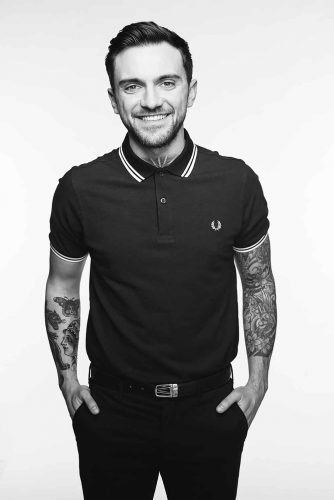 Edinburgh
Ruffians, 23 Queensferry St, Edinburgh EH2 4QS.
So whether it's from a recommendation or not, apparently once we find a barber we like we tend to stick with them. Over half (51%) of the chaps they spoke to have been visiting the same Barber for over 3 years and in a bid to remain loyal, 44% would travel to get to their favourite Barbers if they moved house, while 24% of men would go without a trim if their Barber was on holiday.
Personal connection is clearly important too but how much do you trust your barber? Well, apparently a lot, half of the 25-30 year olds questioned said they would share stories or secrets normally only reserved for family or close friends. In fact, a significant proportion of this age group (40%) would take their Barber's advice over that of a friend or family member on personal matters. So, how much have you divulged with your barber?
So are after good cut and a confidant, but what do we talk about & how can the barbershop experience be improved? The three personality pillars we're looking for is a good sense of humour (57%), good banter (41%) and to remember what we like (52%). No prizes for guessing that football (49%) is the most popular topic of conversation just ahead of the ultimate hairdresser cliché, holidays (47%) plus a healthy dose of amusing anecdotes (31%).
When it comes to improving the Barbershop experience the Just for Men's research revealed that British men would be keen to see their Barbershop experience enhanced further with Wi-Fi (58%), sports on TV (53%) and beers (40%). Cheers to that.
Thanks to www.justformen.com for the stats – give them a follow @JustForMenUK and check out it's Men Hair Colour Range below:
Just for Men Original Formula (£7.89 RRP) – simply mix, apply, leave for 5 minutes and shampoo out. Targets 100% of your greys with a gentle, ammonia-free formula that leaves hair feeling and looking great with natural results.
Just For Men Autostop (£8.69 RRP) – no mixing, no mess, simply comb in with the handy applicator to target unwanted greys, leave for 10 minutes and shampoo out. Using advanced Oxygen Activated technology, the product is triggered by oxygen in the air – after just 10 minutes, it shuts off when it reaches your selected colour. Quick and easy with natural results.
Photo credit: Jack the Clipper visit jacktheclipper.co.uk